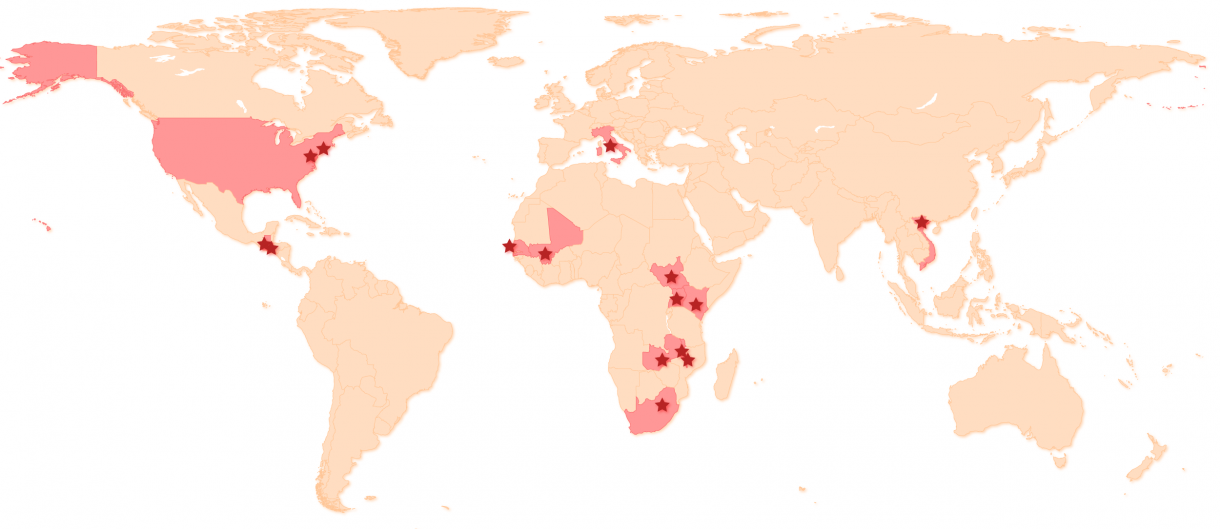 Placements for the 9th Class of Leland Fellows (click to enlarge)
The Congressional Hunger Center is pleased to announce the members of the incoming 9th Class of Mickey Leland International Hunger Fellows! These fourteen fellows will be working in twelve countries across four continents, including South Sudan, where famine was declared earlier this spring. They will work with partner organizations old and new, on projects ranging from designing emergency humanitarian response to finding ways to engage young people in agriculture. Meet our new class of fellows and read what they'll be doing below:
Leland Fellow / Scope of Work
Host Organization
Field Location
Policy Location
Amelia Foley
MPH, Emory University, Atlanta GA
Policy analysis and capacity building for nutrition-related advocacy and communications
CARE
Lusaka, Zambia
Lusaka, Zambia
Anthony Slaton
BS, Public Health Science, University of Maryland, College Park, MD
Design and start up implementation of a local health and livelihoods program; capacity building
Adonai Partners
Kampala and Arut, Uganda
Washington, DC
April Dodd
BA, Linguistics, Middlebury College, Middlebury, VT
Building participation of farmers' groups and SMEs in UN-focused coalition advocacy on food and nutrition security
Emerging Ag
Rome, Italy
Rome, Italy
Aubrey Bauck
MPH, Johns Hopkins University, Baltimore, MD
Development, piloting and dissemination of social inclusion and access equity assessment tools within Homestead Food Production programs
Helen Keller International
Hanoi, Vietnam
Dakar, Senegal
Brandon Hugueley
MPH, Epidemiology, San Diego State University, San Diego, CA
Designing and implementing food deficit research; using results to inform project design
PCI (Project Concern International)
Huehuetenango, Guatemala
Washington, DC
Daniel Robinson
MA, Law & Diplomacy & MS, Food Policy & Applied Nutrition
Tufts University, Medford, MA
Project design, analysis, and research around on- and off-farm labor in rural economies
ACDI/VOCA
Iringa, Tanzania
Washington, DC
Faye Duan
BS, Sociology & Environmental Studies, University of Wisconsin, Madison, WI
Policy analysis and advocacy related to agriculture, climate change and corporate governance
Oxfam America
Washington, DC
TBD
Grace Heymsfield
MPH, Nutritional Sciences, University of Michigan, Ann Arbor, MI
Support for humanitarian response nutrition programs, including needs assessment, program design and implementation
Action Against Hunger
South Sudan
New York, NY
John Laborde
PhD, Agronomy, University of Nebraska, Lincoln, NE
Capacity building for Collaboration, Learning and Adaptive Management (CLA) across projects and organization
ACDI/VOCA
Tamale, Ghana
Washington, DC
Kelly Kurz
BA, International Development, Geography, & Linguistics
University of Richmond, Richmond, VA
Research, development of M&E tools, and policy advocacy related to building resilience for food security in conflict and climate stressed areas
Mercy Corps
Bamako, Mali
Washington, DC
Rachel Gilbert
MS, Agriculture, Food, and Environment, Tufts University, Medford, MA
Research and capacity building for advocacy and communications related to agriculture-nutrition linkages
International Food Policy Research Institute
Lilongwe, Malawi
Washington, DC
Sarah King
MPH, Boston University, Boston, MA
Support for humanitarian response nutrition programs, including needs assessment, program design and implementation
Action Against Hunger
South Sudan
New York, NY
Tanner Roark
Master of International Agriculture, Oklahoma State University, Stillwater, OK
M&E, including data collection and analysis, knowledge management and policy advocacy on agriculture, livelihoods and nutrition
PCI (Project Concern International)
Zomba, Malawi
Washington, DC
Tina Pruna
MPH, Maternal Child Health, Loma Linda University, Loma Linda, CA
Research, program support and policy advocacy related to the role of women and youth in agriculture
Mercy Corps
Guatemala City, Guatemala
Washington, DC
The Anatomy of the Selections Process
The 9th Class of Leland Fellows is now complete, but assembling the members of this new cohort and placing them with their field sites took almost a full five months. Ever wonder what goes into the selections process for a fellowship program?  For us, it went like this:
We accepted applications for the new class from October 2016 to January 11, 2017. Nearly 300 applicants were in competition for the fourteen available spots. Our goal was fourteen competent fellows, each well-suited to the scope of work at their placement. More than that, though, we wanted to put together a strong cohort of fellows, individually committed to working for a food- and nutrition-secure world, but also to learning from and with each other, and expressing a diversity of backgrounds, expertise, education, and experience. Here is an outline of the process we followed to get there:
All candidates submitted a resume and application form that captured education, skills, languages, and preferences, and included four short essays designed to gauge self-awareness, critical thinking and writing skills.
Applications were reviewed by Leland program staff; 38 were selected for the next round.
These 38 applicants each participated in one of seven online group discussions. Each group was asked to discuss a pair of readings on effective development [1]. Afterwards, applicants reflected on the discussion and what they had learned. This allowed Leland program staff to gauge their ability to think critically and interact productively with others (even in a somewhat awkward situation), both key indicators for successful Leland Fellows.
From there, staff reviewed the list of available placements and matched the best performers from the group interviews to placements where skills aligned. Individual interviews were scheduled with 26 semi-finalists, where we assessed their fit for the Leland program as well as the skills and personality required for a specific placement or placements.
Reference checks were conducted for finalists.
When we were confident in a match between a placement and candidate, we proposed the match to both the candidate and the host organization to confirm both parties' mutual interest in working together.
The candidates then got to talk with their prospective field and policy supervisors, and all parties submitted a final thumbs-up or thumbs-down on the match.
Once we had a thumbs up from everyone involved, we sent a formal fellowship offer to the candidate.
Congratulations to the 9th Class of Leland International Hunger Fellows! Stay tuned to this blog for more updates about the Fellows' training and projects.
---
[1] Articles referenced in the online group discussions included:
The Reductive Seduction of Other People's Problems by Courtney Martin and
Seduced by "The Reductive Seduction of Other People's Problems" by Kevin Starr
Save
Save