Above: the first class of International Hunger Fellows. People mentioned in this article include Margaret Zeigler (kneeling, with sunglasses), Ed Cooney (standing, 2nd from right), Ashley Aakesson, (kneeling, with white shirt), Tammy Palmer (seated, 3rd from left), and Michael Johnson (seated, right).
---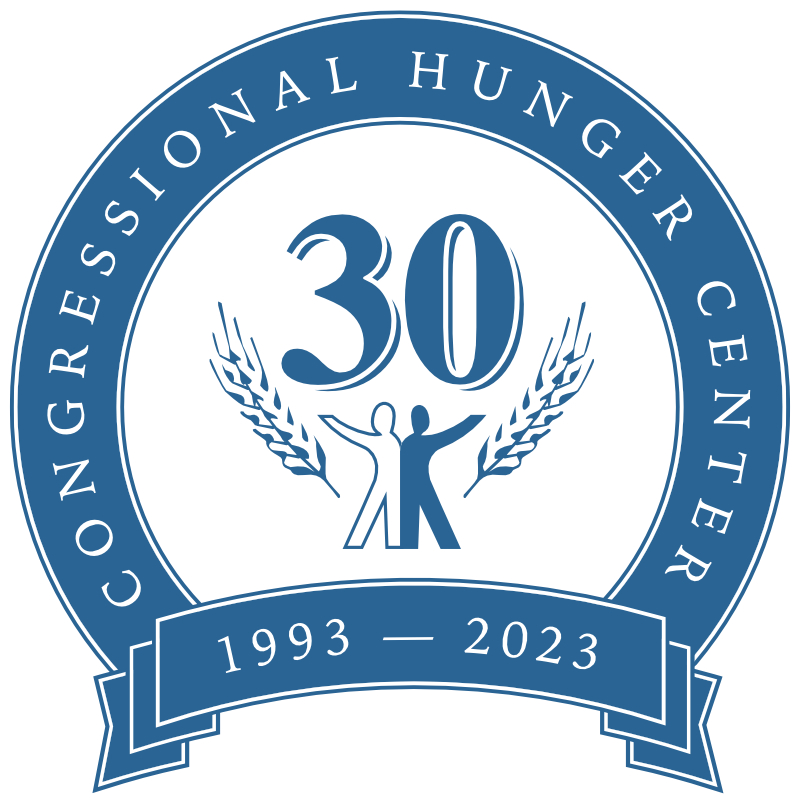 For our 30th Anniversary year we're looking back at important people and events from our past three decades, and the legacy we carry forward as we continue our work of growing leaders and cultivating change. Our last installment relived the early days of the National Hunger Fellowship. Today we're looking at the Hunger Center's focus on global food security and the development of the International Hunger Fellowship.
"I am as much a citizen of this world as I am of my country." So said Rep. Mickey Leland, a mere four months before his life was tragically cut short by a plane crash while visiting humanitarian sites in Ethiopia.
From before the beginning, the Hunger Center and its leadership have focused on both global and domestic food security. The House Select Committee on Hunger had under its purview not only the U.S. domestic anti-hunger programs, but foreign aid and development assistance as well. Our inaugural executive director, Gene Dewey, was an esteemed strategist for humanitarian crises, and in its early days the Hunger Center held roundtable discussions and developed organizational frameworks to improve efficiency of aid response in complex humanitarian emergencies of the mid-90s, such as the genocide in Rwanda and the Bosnian War.
Our founder, Rep. Tony Hall, was one of a very few Americans to have visited North Korea, traveling there for a fact-finding mission in response to the mid-90s famine. In 2002 he was nominated and approved as ambassador to UN FAO. He was sworn in by Secretary of State Colin Powell, who recognized the Hunger Center during his remarks: "The Center gives the volunteers the experience and training to become America's future leaders in the global fight against hunger."
Deputy Director Margaret Zeigler, PhD, joined the Hunger Center staff in 1995. "The idea from the beginning was to have two programs," she explains, but financial constraints necessitated starting with the domestic program. After several successful cycles of operating the National Fellowship, and with support from Congress, the funding for an International Hunger Fellowship was secured to launch in summer of 2001.
Zeigler worked with Max Finberg and former Executive Director Ed Cooney to develop the program. From the start, the team knew they wanted to retain the two-placement model that had proven successful in the National Fellowship. But a six-month timeframe didn't quite fit the timeframe for work in the international development sector; the fellowship was extended to two years.
The profile of the ideal candidate was refined as well. "We did not want to reinvent the Peace Corps," explained Zeigler; that program already provided Americans with entry-level experience working in global contexts. "We wanted to focus on emerging leaders who have knowledge and training but needed that first placement to shape that career."
Recruitment for host organizations needed re-thinking, too. Zeigler recalls the Hunger Center's membership in InterAction was very helpful in expanding their network of partners. "You got to know who the good NGOs were." In the early days, the supervisors didn't fill out an application. "We would just ask them: do you want to host a fellow?"
Ashley Aakesson was completing a grad school internship with Zeigler as the program was being developed. She was involved in developing a pitch of the fellowship for prospective host organizations, as well the selection criteria and review process for applications. "At the same time, I was conducting a qualitative evaluation of the Emerson Fellowship program by interviewing fellows and host organizations," Aakesson recalls. "The information from that evaluation helped to shape the International Fellowship too."
Selecting placements had a strategic angle. It was important to have a UN Component for an international policy perspective. As a result, three of the 11 of the first class's placements were with elements of the UN. But some decisions were more personal. "We always tried to have someone placed in Ethiopia," explains Zeigler, "because of Mickey Leland's legacy."
"It was not easy," explained Zeigler. "We had to set everything up really quickly. But we assembled a really great first class: they took a chance on us, and we took a chance on them."
The first class included leaders like Tammy Palmer, who worked with USAID in Kampala, Uganda, and Washington, D.C. "It is still difficult to believe that it's been over 20 years since I was part of the inaugural class," says Palmer, who recently participated in orientation training for the current 12th Class of Leland Fellows. Her projects as a fellow included gathering and reporting on food security indicators and researching the efficacy of relief food programs.
"For me, my fellowship introduced me to the inner workings of the United States Agency for International Development, where I eventually spent a substantive portion of my career as a Foreign Service Officer assigned to Latin America, Africa and Washington, D.C. It was an invaluable experience that would be difficult to replicate even with other types of fellowship opportunities. Being able to hone in on both how policy is made in a given institution and then implemented at the field level was a career 'gift' that the fellowship provided."
Another member of the first class of Leland Fellows was Michael Johnson, who worked with IFAD in Rome and Washington, D.C. Michael's work focused on researching the linkages between desertification and food insecurity. "It was a privilege to have been chosen to be a part of the first class of Leland Fellows," he recalls. "Knowing that the fellowship has evolved since then, what I learned from my field and policy placements equipped me with foundational principles of food security and the intergovernmental nature of addressing hunger and food insecurity on a global level. That foundation led to additional professional contributions in the areas of food security and conflict and expanding donor resources to food security programs around the world. I could not have done it alone and I am grateful for the opportunity given through the Congressional Hunger Center to acquire skills and to make a difference in people's lives."
Her grad school internship complete, Ashley Aakesson was actually selected as as Hunger Fellow by Save the Children, and served in Negelle, Ethiopia, and Washington, D.C. "My interest in behavioral science and using Social and Behavior Change programming approaches to make projects more effective and sustainable started during my time in Negelle with the amazing staff there," she remembers. "SBC has been my focus for the rest of my career, along with participatory research, program design, and evaluation. So it had a big impact on me."
The kinds of unanticipated challenges involved in running an international fellowship program became apparent following the terrorist attacks of September 11, 2001. While one fellow needed to be evacuated from their placement due to safety risks, the rest of the fellows stayed and continued their projects for the remainder of their placements.
Mid-policy training included session with USAID Administrator Andrew Natsios and the Congresisonal Research Service. Aileen Carr started at the Hunger Center as a Program Associate in December of that year. "I remember getting to learn with a group of really smart and thoughtful people," she recalls, thinking back to the sharing that occurred when fellows gathered to debrief their experiences. "The knowledge transfer in that room is so rich." These gatherings gave the cohort a chance to learn from each other's experiences and contexts in a way that built a strong community of leaders, which is a hallmark of the program to this day.
After a successful first two years, word got out about the fellowship: for the second class, the pool of applicants doubled in number. Successive classes of Leland Fellows would participate in Country Studies, where class members would gather in a specific country such as Guatemala or South Africa for a comprehensive study of its local policy context. Over the years, the recruitment of host organizations has also branched out to include cooperatives and private sector entities, such as Land O'Lakes Venture 37, ACDI/VOCA, and NCBU/CLUSA, several of which are hosting Leland Fellows in our current 12th Class.
But at the heart of it, the critical components remain the same more than two decades after the program's founding. "The main thing: enthusiastic, visionary young people," recalls Zeigler. "It's been one of the highlights of my entire life to be part of the team effort to create the International Hunger Fellows Program.
"And I think if Mickey Leland was here today to see it, he would be stoked."