We partner with two types of organizations to host Bill Emerson National Hunger Fellows: field sites—those working at the local level in communities across the United States, and policy sites—those working at the national level in Washington, D.C. For field and policy sites alike, hosting an Emerson Fellow provides skills, energy, and dedication to the organization while expanding capacity to launch new projects or programs, or improve existing ones. Emerson Fellows are passionate emerging leaders committed to social justice and eliminating hunger and poverty and their root causes.
Hosting an Emerson Fellow for Field Placements
---
Lasting from September to February, Emerson Fellows' field placements may be with community-based nonprofits or state or local government agencies. Field sites provide an opportunity for fellows to learn how anti-hunger responses are designed and implemented at the community level, and how they engage and affect people experiencing hunger and poverty. Emerson Fellows are ready and willing to take on innovate workplans to help your organization achieve its goals of eliminating hunger in your community; past workplans have included:
Designing, developing, evaluating, and improving local programs and projects addressing hunger, food access, health, poverty, and racial equity
Developing outreach and enrollment strategies for public benefits (e.g. SNAP, child nutrition programs, EITC, and farmers market incentives)
Developing strategies and implementation tools for building racial and class equity into organizations' programs, projects, and practices
Conducting qualitative and quantitative research and story collection
Initiating advocacy and public education campaigns
Staffing coalitions
Developing communications strategies, materials, and tools
Working with a Congressional Hunger Fellow was a fantastic experience for our United Way and would highly recommend it to other sites. Fellows are incredibly bright, adaptive young leaders that are not only advocates for hunger work but help to inspire leadership in others. They are important resources and allies in the fight against hunger and inequality and can be a powerful agent for change in your community. Alyssa Banks, Program Officer, Greater Twin Cities United Way & Emerson Field Site Supervisor
Hosting an Emerson Fellow for Policy Placements
---
Emerson Fellow's policy placements last from March to July, and may be with Washington, D.C.-based advocacy groups, think tanks, or Federal government agencies addressing hunger at the Federal level. Emerson Fellows' work with policy sites allows the fellows to take the practical knowledge of hunger and anti-hunger programs they acquired at their field sites and apply it directly to national policy initiatives and campaigns. Past Emerson Fellows have expanded the capacity of their policy by:
Conducting research and analyzing data
Tracking and influencing regulatory reforms
Planning or implementing public education or outreach campaigns
Analyzing legislation and regulations
Developing communication tools
Designing training programs and resources
Staffing coalitions and strengthening campaigns
Designing and implementing conferences, gatherings, research sessions, etc.
Being able to host a fellow added tremendous value and capacity to our team and organization. The fellow was smart and talented, able to get up to speed very quickly, ask the right questions, and produce well-organized and written work product on a quick turnaround. She was also a delight to work with and everyone in the organization enjoyed having her with us during the program! Tanya Goldman, Senior Policy Analyst/Attorney, Center for Law and Social Policy
Meet Our Current and Former Host Organizations
---
Browse our list of partners by state, and learn more about the fellows placed with each host organization and what they worked on while they were there.
---
Ready to join our network of host organizations?
Read our guide for host organization applicants to learn more about the benefits of hosting a fellow, selection criteria, application timeline, and much more.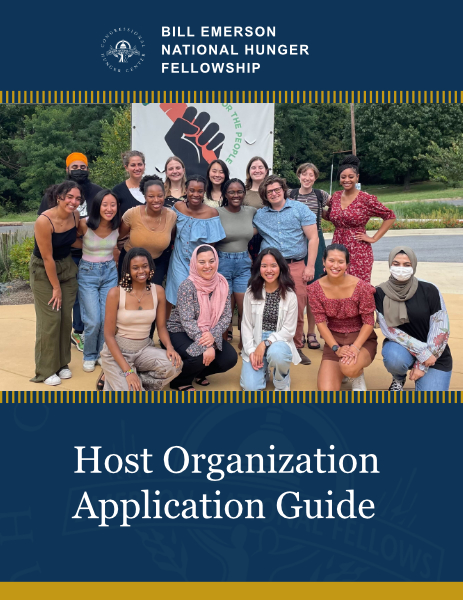 We are now accepting applications to host Emerson Fellows for policy placements in winter/spring 2023. All applications must be submitted through the form linked below. Applications must be received by Thursday, November 17 at 5 p.m. EST. Note: the application form will not save your answers if refreshed. You may want to complete your application in another document and populate the form when you are ready to submit.
We are accepting applications to host Emerson Fellows for field placements for 2022-2023. All host organizations must complete an online application form and submit a work plan through the link below. Applications to host Emerson Fellows for field placements are due by Wednesday, May 25, 2022. Note: the application form will not save your answers if refreshed. You may want to complete your application in another document and populate the form when you are ready to submit.
Applications to host Emerson Fellows for spring 2022 have closed. We will next be accepting applications for policy hosts in fall 2023.