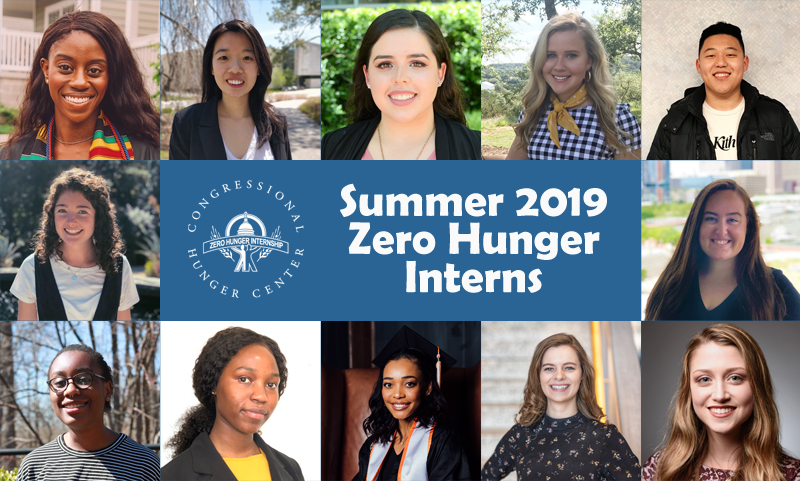 We're excited to announce the 2019 Cohort of Zero Hunger Summer Interns! These twelve student leaders were selected from a pool of 400 applicants, and all show a remarkable level of initiative and dedication to ending hunger in their communities. Starting in June, these Zero Hunger Interns will travel to Washington, D.C. to intern with organizations working to end hunger nationally and globally.
Many college students volunteer with campus-based organizations that address hunger, in their campus communities or in communities around the globe. But what about the big picture? The Zero Hunger Internship Program, sponsored by the Sodexo Stop Hunger Foundation, gives these campus leaders a chance to study the power of advocacy and the policy-making process with hands-on work at leading anti-hunger organizations in Washington, D.C. They will develop their individual leadership skills and learn from experts on global and domestic hunger through the Hunger Center's new Summer Seminar Series, which is open to all summer interns in Washington, D.C. The Zero Hunger Interns will also learn from each other as members of a dynamic and diverse cohort, hailing form schools and communities across the country and around the world.
"I'm incredibly impressed by the students in this group," says Sam Stevens, who leads the Zero Hunger Internship Program, "and looking forward to working with them. If we want to move the needle on reaching zero hunger by 2030, we need committed leadership at all levels of society. These students are already leading anti-hunger efforts on their campuses. Our goal is to give them access to tools, resources, and expertise, so that they can return to their homes and campuses, equipped to advocate for an end to hunger."
Meet the Summer 2019 Zero Hunger Interns:
Kristina Benjamin
University of Dayton | Human Rights Studies
"I'm excited to interact with and learn from advocates with lived experience as well as state and national advocates."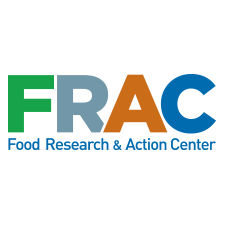 With Food Research & Action Center, Kristina will support the legislative team's work on Child Nutrition Reauthorization and create a plan for how national anti-hunger advocates can meaningfully incorporate advocates with lived experience into their work.
Hui Ling Chen
Northwestern University | Economics & Psychology
"I'm excited to meet and learn from other interns, Fellows, and leaders who are passionate about anti-hunger policies."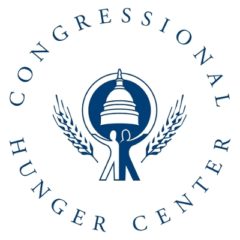 With the Congressional Hunger Center, Hui Ling will work with the Bill Emerson National Hunger Fellowship Program Team by supporting the daily function of the program, building out an online learning platform, and researching new partners.
Maria Garcia
University of North Carolina at Charlotte | French, German, & International Studies
"I'm looking forward to learning how research fits into a policy-making environment."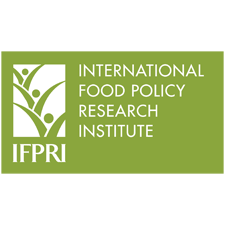 With International Food Policy Research Institute, Maria will support the media team as they produce and disseminate materials that communicate research on critical development issues.
Josie Johnson
Texas Christian University | Nutrition
"I'm excited to participate in the Zero Hunger Internship Program because it's an incredible way to teach young people how to tackle issues related to hunger and poverty and to develop leaders."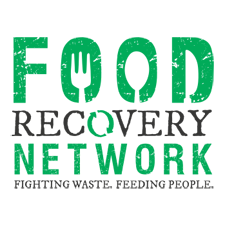 With Food Recovery Network, Josie will develop a student advocacy guide to help fight student food insecurity.
Sam Kim
Davidson College | Political Science & Philosophy
"I am excited to further my skills in advocacy for the youth so that I can get my campus more engaged with issues related to hunger and poverty across the globe."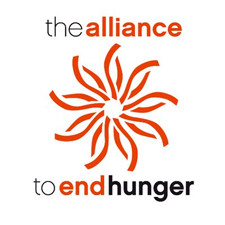 With the Alliance to End Hunger, Sam will support the youth advocacy initiative which provides education and tools to allow youth to go deeper than service and engage in advocacy against hunger.
Alicia Lee
University of North Carolina at Chapel Hill | Public Policy
"I'm thrilled to be a part of the Zero Hunger Internship this summer because I'm excited to learn more about the current state of policy alongside other individuals who are passionate about this issue."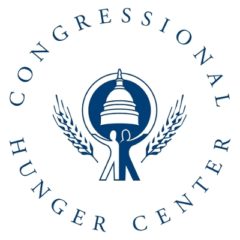 With Congressional Hunger Center, Alicia will support the development team by researching grant opportunities, developing relationships with new donors, and supporting the Hunger Center's Hunger Leadership Awards.
Kendyl Lewis
Georgia College & State University | Psychology & Economics
"I am excited for the relationships I will build and the unique experiences I will have as a Zero Hunger Intern!"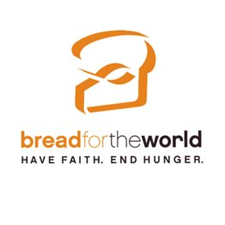 With Bread for the World, Kendyl will work with the government relations and organizing departments to mobilize Bread's grassroots network on their annual campaign priorities, including Bread's global nutrition campaign.
Madeline McGarry
Iowa State University | Agricultural Communications & International Agriculture
"I am excited to exercise my passion for addressing global food insecurity issues."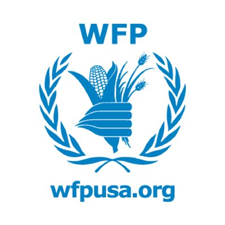 With World Food Program USA, Madeline will support the public policy team's communication projects focused on U.S. government food security programs.
Gabriella Parker
University of Tennessee | Political Science & Africana Studies
"I am beyond ecstatic to participate in the Zero Hunger Internship Program to be able to learn more about implementing initiatives to end hunger and poverty both domestically and internationally."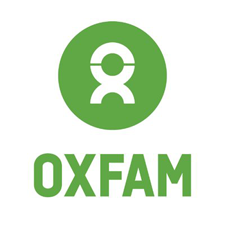 Working with Oxfam America, Gabriella will support research related to Oxfam's agriculture and food security policy and work with the government affairs team to represent key priorities for the food systems team.
Chido Shamuyarira
Cottey College | International Business & International Relations
"As someone who was directly affected by food shortage in Zimbabwe I am excited to learn about the eradication of hunger, work with people with the same vision and develop my leadership skills."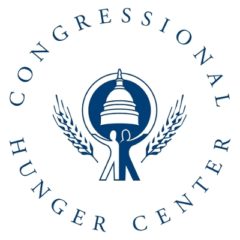 With the Congressional Hunger Center, Chido will work with the Mickey Leland International Hunger Fellowship program team by supporting the daily function of the program, analyzing program surveys and participant feedback, and developing a comprehensive program calendar.
Jacquelyn Sullivan
Guilford College | Political Science
"I'm excited to participate in the Zero Hunger Internship Program because I believe that food is a right, not a privilege, and anticipate collaborating with others and gaining hands-on experience with anti-hunger policy."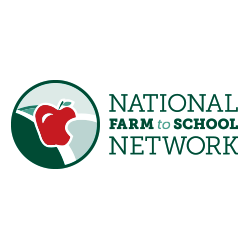 Working at National Farm to School Network, Jacquelyn will support the launch of a campaign for a federal local food purchasing initiative and support NFSN's advocacy efforts.
Katie Waeldner
Duke University | Cultural Anthropology
"I hope to develop my leadership and advocacy skills to amplify the voices of those facing hunger, learning how to initiate sustainable change."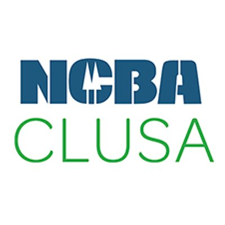 With National Cooperative Business Association CLUSA International, Katie will help the resilience team document key project accomplishments and will join the advocacy and communications team to advocate cooperative priorities.
Interested in learning more about hunger this summer in Washington, D.C.? Check out our Summer Seminar Series and sign up here.
The Zero Hunger Internship Program is made possible with the generous support of theSodexo Stop Hunger Foundation.