Members of the 25th Class of Bill Emerson National Hunger Fellows outside the Center for Ethical Living and Social Justice Renewal in New Orleans, October 2018.
In October 2018, the 25th Class of Bill Emerson National Hunger Fellows traveled to the Center for Ethical Living and Social Justice Renewal in New Orleans for their mid-field retreat. At the retreat I wore two hats: one as the Congressional Hunger Center's new Program and Operations Associate, and another as an alum of the 23rd Class of Emerson National Hunger Fellows (aka the Jordan Class). Being in New Orleans with the fellows and Hunger Center staff was awesome. As a fellow, I completed my field placement at Jesuit Social Research Institute, a research organization on the campus of Loyola University New Orleans. My family roots also run deep in Louisiana and every time I visit, it feels almost like a homecoming. Even more exciting was being around all 19 fellows, who brought a wealth of knowledge, experiences, and questions with them to this retreat.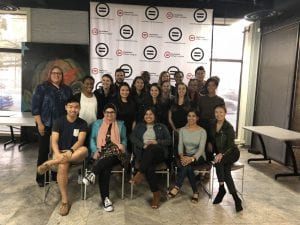 Emerson Fellows with Christy Slater (far left) at the Urban League of Louisiana.
Occurring halfway through the Emerson fellows' field placements, mid-field retreats are an opportunity for fellows to reconnect with each other, share what they have learned so far at their field placements, and dive into skill-building activities. When I was a fellow, our mid-field retreat took place at the historic Highlander Center in New Market, Tennessee, where, in between sessions on theories of change and managing up, we learned about the rich organizing history of black and white railroad workers in the Smoky Mountains. In New Orleans, the fellows spent an afternoon with Christy Slater, a Program Officer with the W.K. Kellogg Foundation, learning about the city's history, its recovery from Hurricane Katrina, and former mayor Mitch Landrieu's Equity New Orleans initiative. In typical fellow fashion, they asked tons of thought-provoking questions and learned about the racial and health equity framework employed at the city level. Of their experience, one fellow said they "enjoyed listening to someone with policy/philanthropic experience discuss the actions taken/taking place in New Orleans to tackle racial disparities and rebuild post-Katrina NOLA. The discussion was fruitful with a diverse array of questions being asked." The day ended with a family-style meal, where the fellows were joined by two Emerson alums who live in New Orleans, NaShawn Johnson (23rd Class) and Mary Elizabeth Evans (8th Class).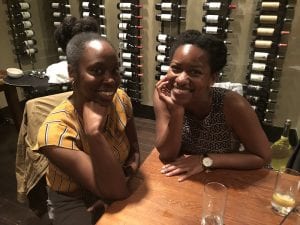 Emerson Fellow alums NaShawn Johnson (left) and Sakeenah Shabazz in New Orleans.
The Hunger Center's Leadership Capabilities Model, which features a three-fold focus on self-development, leading with others, and creating change, served as a guide for the sessions that the staff put together. The few short days we had together were filled with sessions that will prepare the fellows for the second half of their field placements and into their policy placements. Shannon Maynard, the Hunger Center's Executive Director, gave presentations on the history of social movements in the U.S. and on framing policy messages. Arcelia Gomez, our Learning and Innovation Manager, led exercises where fellows reflected on the work environments that will best suit them and their skills. Emerson Program Director Jon Wogman and I led discussions on how class and race impact communities of color. I also presented on census data, and how to navigate national databases for statistics on poverty, food insecurity, wages, and more.
Emerson Fellows participate in a team-building exercise at midfield retreat.
One great thing about the Emerson Fellowship is that fellows have ownership of their learning and professional growth. So, it was encouraging to see fellows hum in agreement when something resonated with them, as well as when they asked us questions that we didn't have ready answers to. Having the space to do their own analysis or to form opinions on approaches to change is what the mid-field retreat is for, along with their future policy trainings and professional development days. I enjoyed every minute of this retreat and my time with the fellows, ­­and I look forward to the months ahead when they journey back to Washington for their policy placements.