Researching best practices and designing equitable solutions, providing direct assistance and keeping vital programming running—here are more ways that our network of Hunger Fellows and alums are responding to food insecurity in the wake of the coronavirus pandemic:
Current Hunger Fellows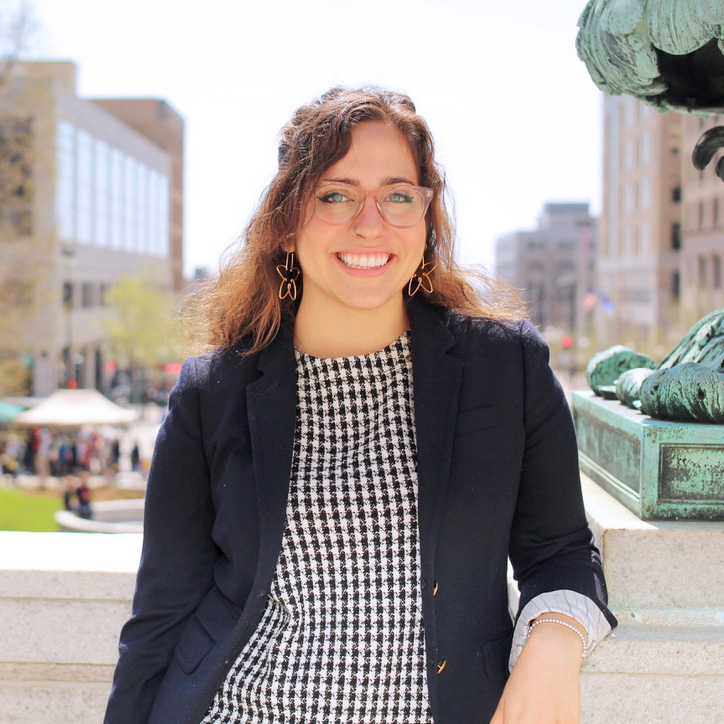 Emerson Hunger Fellow Chloe Green wrote about the racial dimension of hunger during the pandemic in this blog post for her policy placement with the American Public Human Services Association. She describes some of the factors contributing to worse health and economic outcomes for communities of color, and points towards some policy solutions for recovery. "Although there isn't a simple answer," she writes, "I think the first step we can take—especially for those working in health and human service agencies or advocacy and policy spaces—is to recognize and think about the root causes that have created a need for racial equity. Agencies and policy makers must be proactive in producing equitable policies, standards, and responses—ones that go beyond assuming a neutral platform to specifically address the needs for communities of color." (Read more here)

SNAP is a crucial component of the social safety net, keeping food on the table for millions of Americans. While the program has proven to be a lifeline in hard times, Emerson Fellow Sean Walsh notes that "the coronavirus-induced spike in SNAP applications paired with public health guidance calling for social distancing and self-quarantine have posed challenges for states, the federal government, and those in need of food assistance." Writing for the National Conference of State Legislatures, he describes some options for states to use flexibility in the program to address these challenges. (Read more here)
---
Hunger Fellow Alums
CalFresh (SNAP) Coordinator
UC Irvine, FRESH Basic Needs Hub
Irvine, California
How is your organization responding to the pandemic?
Our basic needs center on our campus is continuing food pantry distributions every other week! We're distributing boxes of non-perishable food items. In addition, we are helping students apply for CalFresh (SNAP) virtually through Zoom Application Assistance. We're also helping students through our Swipe Out Hunger program, as well as through Emergency Grants.
What do you think good leadership looks like during a pandemic?
Reducing barriers to accessing public benefits. For example, reducing or eliminating student exemptions for SNAP eligibility (hopefully coming on the way!), or waiving re-eligibility determinations for the time being, which is what Governor Newsom of California has done. In addition, providing access to services in a way that protects the staff and beneficiaries.
---
Director of Corporate Learning
Fintrac
Washington, D.C.
How is your organization responding to the pandemic?
We work with smallholder farmers in Latin America and Africa. All but one country we work in is currently on lock down to ensure social distancing for COVID-19. Our priority across each country is to continue our agriculture development methodology, which includes intensive on-farm technical assistance with smallholder farmers. Our field technicians are conducting farmer outreach and training through WhatsApp, Facebook Live, and other tools. They are also increasing their use of local radio to deliver well-timed messages. Smallholder farmers are vital to keeping food systems running, and we see our staff as delivering an essential service. Therefore, everyone's focus—from Corporate Learning and M&E in the home office to administrative staff in field offices—is to support the continuation of that work.
Because our technicians are not traveling due to COVID-19, which takes quite a bit of their time in non-pandemic times, they are also using the time to refine their technical trainings and share across projects "what works." We use our internal learning platform to facilitate this, and it is increasing cross-project communication at field levels, which is a silver lining. Usually, people are too busy to engage to that degree.
What are some gaps you see in responses to food insecurity caused by the pandemic?
My personal opinion, not necessarily representing the views of my organization, in the context of my work: I think that anti-hunger responses within the international aid world need to focus on enabling environment drivers to reduce potential problems around the world. Policies, regulations, etc. regarding food production, transport, and trade need to be quickly assessed and measures put into place to reduce any obstacles for agriculture supply chain actors to move food to where it needs to be. Of course, the word of caution is not to simply get rid of regulations, standards, and norms that keep food supplies safe, but to take smart, proactive changes that enable supply chain operations to continue responsibly.
---
Director
Welcome Home Coalition
Portland, Oregon
How is your organization responding to the pandemic?
Our coalition is made up of dozens of organizations working to respond directly to how COVID-19 is compounding the housing crisis in our community. Our members are organizing the houseless community to ensure people have access to critical services and supplies, and advocating for additional resources to support renters and homeowners from our local, state, and federal governments.
What do you think good leadership looks like during a pandemic?
Many of our members are showing what good leadership looks like during a pandemic. I have been particularly inspired by the work a partner organization, Street Roots, has done with their members. Street Roots is a weekly newspaper that addresses homelessness and poverty in their reporting and is sold by vendors experiencing homelessness. In the midst of this pandemic, Street Roots has been forced to move to publishing only a digital version of its paper. However, their vendors have taken on critical organizing and leadership work within the unhoused community including rapidly reshaping how services are delivered from the Street Roots office, providing COVID-19 education to folks living in camps, and connecting members of the unhoused community with critical supplies. They're an example of the leadership capacity of individuals with lived experience of homelessness, and are helping ensure our city's response to this crisis is more humane.
---
Are you a Hunger Fellow alum working on food security issues during the COVID-19 pandemic? We want to hear from you. Let us know using our form at bit.ly/chc-covid19-response.