Above: Hunger Fellows Funke Aderonmu and Amirio Freeman at the end of field training, August 2017.
---
While Washington, D.C. is the seat of the Federal government, it is also home to more than 680,000 residents, 1 in 8 of whom struggles with hunger. Hunger Fellows Funke Aderonmu and Amirio Freeman are serving the field work portion of their fellowships in the District, joining first-time Emerson program partners DC Greens and Martha's Table to take on a range of projects, from seeking solutions to the problem of food deserts to amplifying the voices of community members with first-hand experience of hunger. Hear their thoughts on finding their place in a new city and new communities in this field site spotlight:
Funke Aderonmu
Having moved from California to the nation's capital, many things have been new to me—free museums, embassy buildings, and row houses to name a few—but some things remain familiar: intense traffic and an abundance of coffee shops. For the past few months, I have served at DC Greens, a local nonprofit that uses food education, food access and food policy as tools to advance food justice in D.C.
At DC Greens I work mainly with the Community Advocates, a group of six D.C. residents with lived experiences of food injustice who work with DC Greens to champion food access issues at the local government level. Over the course of seven months, the Advocates learn about food access issues in D.C., build networks with others working on food justice and have the opportunity to testify at a D.C. Council hearing to advocate for increasing access to healthy food for low-income residents. Part of my role as a fellow involves interviewing Advocates about their experiences and potential ways to improve the program. Through these interviews, I've listened to stories that speak to the passion of the Advocates and impact of the program, like that of an Advocate who came into the program with little knowledge about the local food system in D.C., but left with both a clearer sense of what the system looks like and a drive to fight for a more equitable food system.
Another project I am working on involves supporting an evaluation of the Healthy Corners Expansion Pilot, a collaboration between DC Greens and DC Central Kitchen's Healthy Corners program. The pilot identified Healthy Corners stores interested in dramatically increasing the amount of fresh produce on their shelves, and provided ten weeks of free produce to help those stores take the leap. In this capacity, I work with DC Greens staff to measure whether the program has resulted in more residents of Wards 7 and 8 buying fresh produce from their local corner stores. Working on this project involves talking with local residents about where they typically buy food and learning about the current grocery store gap in D.C. To date, nine full-service grocer stores in Ward 3 (one of the richest wards in D.C.), while in Ward 8 (one of the poorest wards) there is only one1). This disparity is further underscored by race and income level, as Ward 8 is predominantly occupied by Black residents and is an area where the average household income is about one-fourth that of households in Ward 32. In an effort to close the grocery gap, my work evaluating the HCS program will help provide insight on what can be done to provide greater access to nutritious food for all D.C. residents regardless of socioeconomic status and race.
One of my most memorable experiences at DC Greens so far has been participating in the Grocery Walk, a march attended by hundreds of D.C. residents to bring awareness to the lack of grocery stores available to residents of Wards 7 and 8. It was inspiring to see so many Washingtonians, from senior citizens to toddlers, walk up to two miles to show how far some residents have to travel to get to their nearest grocery store. A first of its kind in the country, the Walk received press coverage from local and national newspapers. Not long after the Walk, the Mayor's Office announced plans to invest upwards of $3 million towards addressing the grocery gap in D.C.!
The success of the event isn't all that has stuck with me ever since. Coming from a liberal public university in California, I had exposure to many forms of activism, but it was almost done exclusively by students. Attending the Grocery Walk showed me how much more impactful organizing can be as a force for social change when done intergenerationally and in partnership with people from different walks of life.
In all, my time working at DC Greens has been incredibly meaningful. There is so much to learn in a place as dynamic as D.C. where people come from all corners of the country and world to make an impact in whatever capacity.  I've also learned that the drive to make change doesn't just come from outside D.C., but is also bursting within the District, among the individuals and communities that call the city home. As a recent transplant, I look forward to continuing to partner with those who have deep roots in D.C. to accomplish the shared goal of advancing food justice in the nation's capital.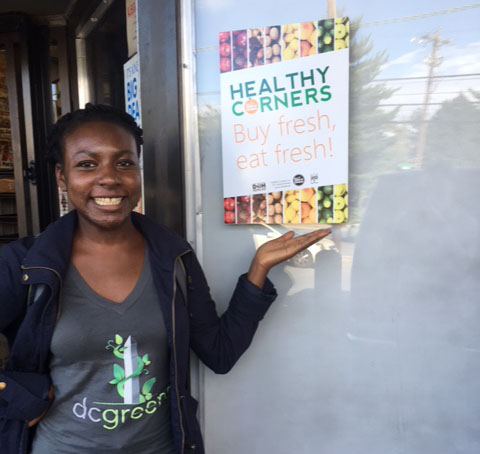 Hunger Fellow Funke Aderonmu shows off a promotional poster for Healthy Corner Stores, September 2017.
Amirio Freeman
While living and working in Washington, D.C., my love for walking has grown, especially as I have come to spend more time on foot than at any other point in my life. While crisscrossing the streets of the District—a vibrant cross section of identities and lived experiences—I have had the chance to experience so much liveliness and beauty. From the sidewalks, I am able to absorb the exuberance of live performers at the entrance of a metro station; observe massive murals bursting with narrative and color; and even appreciate the natural life found in patches of green space. On the other hand, while traversing the streets of D.C., I also have had a front row to scenes of inequity: scenes of individuals who look like me being forcefully arrested; of individuals without affordable housing making homes of sidewalks; and even scenes of severe food apartheid.
Walking in the District is both enlivening and sobering, and every day I consider what I can do, as a transplant, to create a D.C. where I only walk past scenes of equality and justice.
Monday through Friday, the first place I walk to is Martha's Table—my field placement and the place where I get to collaboratively tackle some of the scenes of inequality I bear witness to on a day-to-day basis. Martha's Table is a D.C.-based nonprofit that has operated around a single core belief for nearly 40 years: "every child deserves the opportunity for their brightest future, and a deeply engaged family and community committed to their success." To support strong D.C. children, families, and communities, the Martha's Table team provides increased access to family and emergency relief supports (e.g. affordable clothing, etc.), quality educational programs for children, and also healthy food. Many of my tasks at the nonprofit revolve around increasing access to the latter item via helping out with Martha's Table's Joyful Food Markets program.
In 2015, in partnership with the Capital Area Food Bank, Martha's Table started its Joyful Food Markets (JFM) program. The program provides free monthly, pop-up grocery markets for 39 elementary schools in Wards 7 and 8—areas that have egregiously limited access to healthy foodstuffs (Ward 7 only has two full-service grocery stores, while Ward 8 only has one). Over the past few months, I have worked with Martha's Table Healthy Eating, External Relations, and Community Supports teams to dream up and implement innovative volunteer recruitment strategies to ensure that every JFM  is properly and efficiently staffed with volunteers month to month. That process of innovating volunteer recruitment strategies has involved me experiencing Joyful Food Markets firsthand, researching and taking inventory of volunteer demographics that have and have not been tapped into, and collaboratively trying out tactics for recruiting new volunteers (including strategically transforming local high schools and predominantly Black religious institutions into JFM stakeholders and volunteer pipelines). While being a part of three separate teams within the organization can sometimes pose challenges, this kind of collaboration is integral to sustaining a program that supports the suture of the grocery gap between Southeast D.C. and the District's other quadrants and that provides a space for community-building east of the Anacostia River.
In addition to my work with food access at Martha's Table, my main project at the nonprofit involves interrogating how the organization can integrate tenets of "transformative community engagement"—a type of outreach that shifts from superficial community inclusion to allowing the community members supported by an organization to occupy positions of leadership within said organization and have direct control of the organization's decision-making process. To complete this project, I'm currently in the process of crafting a document that will accomplish three core items: (1) summarize existing literature on transformative community engagement, (2) provide case studies of how local D.C. nonprofits are including aspects of transformative community engagement into their organizational structures, and (3) give final recommendations (informed by interviews with key Martha's Table leadership) on how the organization can incorporate elements of transformative community engagement with its existing resources. Given Martha's Table's desire to manifest its vision of a strong, agential D.C., it is my hope that my document on transformative community engagement will be another tool that the organization can use to empower and support the sovereignty of the communities it supports.
Each evening, when I step away from my projects at Martha's Table and end another day, I, again, find the streets of the District both enlivening and sobering, and, again, I consider what I can do to create a D.C. where I only walk past scenes of equality and justice. As I work more and more with the Martha's Table staff, I realize that I should not be asking what I can do, but, rather, what we can do to create a more just, equitable D.C. After all, through my field placement I've come to realize that creating transformation relies on cultivating community. With my work involving maintaining volunteerism at Joyful Food Markets, I see that sustaining any sort of grassroots transformation involves reaching across the aisle to collaborate, bringing new individuals into a movement, and performing other acts of community-building. With my project involving researching models of transformative community engagement, I see that nurturing change inherently necessitates the establishment of meaningful partnerships that aren't unidirectional or transactional. Through Martha's Table, I have learned (and I am continuing to learn) that addressing any sort of inequity, from poverty to food insecurity, requires the activation of a robust collective march instead of an individual stroll. During my last few months at the organization, I look forward to being a part of that march.
Hunger Fellow Amirio Freeman in front of Martha's Table, September 2017.
"Closing the Grocery Store Gap in the Nation's Capitol." DC Hunger Solutions. http://www.dchunger.org/d-c-s-grocery-store-gap/ (December 11 2017 [↩]
"Closing the Grocery Store Gap in the Nation's Capitol." DC Hunger Solutions. http://www.dchunger.org/d-c-s-grocery-store-gap/ (December 11 2017). [↩]