Jersey City, the seat of Hudson County, New Jersey, lies directly west and south across the Hudson River from Manhattan, and is home to over 200,000 residents. The food insecurity rate in Jersey City is 10.6%, and, as in many urban centers, access to fresh, healthy food remains a challenge for many of the city's poorer residents. Emerson Hunger Fellows De'Sean Weber and Bardia Vaseghi both worked with the Jersey City Department of Health and Human Services in the fall and winter of 2017-2018 on projects related to food access issues. Read on to see their impressions of New Jersey's second most-populous city and their thoughts on improving nutrition for all the people who live there.


Bardia Vaseghi (left) and De'Sean Weber present their findings from their field work at the Rayburn House Office Building in February, 2018.
De'Sean Weber
It was a Wednesday morning, and I was putting the finishing touches on a letter to a loved one. As I finished writing my letter, I realized that despite having worked in Jersey City for seven weeks, I still did not know where to get stamps or an envelope in Jersey City. A few days prior, I had checked various ATMs and Walgreens for both and could not find any. Where could a person turn for basic household items like these in the city?
My placement at the Jersey City Department of Health and Human Services was serendipitous. Coming into the fellowship I was excited to explore a new city outside of the Midwest, where I have spent my entire life. I knew little about the city beyond its proximity to New York City. I knew even less about the focus of my project—healthy corner stores. In my experience, corner stores were places where I would go in quickly and grab a pack of gum rather than a place to buy my groceries.
Shortly after arriving in Jersey City, I realized the potential and importance of this initiative in improving healthy food access through corner stores. The corner stores are a ubiquitous part of the urban landscape. I found myself buying most of my groceries at bodegas, since the nearest supermarket was almost a mile away from my apartment. In Greenville, the community that my project is focused on, I have found that folks make many of their food purchases at corner stores, which mainly sell unhealthy packaged food or snacks. Therefore, these corner stores were contributing to the food swamp (areas with a high density of establishments selling high-calorie fast food and junk food relative to healthier food options) throughout the city. The Healthy Corner Store Initiative is an opportunity to introduce healthy food options while further developing and supporting existing community establishments.
I began my time at the Department of Health and Human Services canvassing corner stores, targeting stores that were near to schools and accepted WIC. At store after store, shop owners were wary of the program. Their reasons varied, from skepticism about working with the same folks who inspect their stores to thinking that their customers would not be interested in healthy foods. The breakthrough in my project came when I started working with the Hispanic American Commerce Association (HACA) in Jersey City. HACA works to organize its membership of Hispanic small business owners to become more involved in social and economic activities throughout the city.
After working with the president of HACA, I connected with two corner store owners who were interested in joining the initiative. I took store inventories to understand the baseline of healthy foods and found areas where they could improve their healthy food stock. Working with the store owners, we determined the inventory and marketing changes that were reasonable for their store and a timeline for those changes. I hosted a launch event with Jersey City Medical Center, HACA, the American Heart Association, and the mayor to announce the store was joining the New Jersey Healthy Corner Store Initiative. The changes to the store have occurred very quickly, but the work to provide affordable and healthy food in the community has just begun, as food access is one part of a larger fight against poverty and hunger at large in the city.
In interviews and surveys, voices from the community have told me that the issues of food security and healthy food are not always the priority of residents. When asked about what should be done in the community, folks often focused on economic development, education, and finally, perhaps, food access. These trends in the community echo recent research that food deserts alone are not to blame when it comes to varied health outcomes. A recent study published in the International Journal of Environmental and Public Health [1] showed that proximity to food swamps is more closely related to adult obesity rates than food deserts. Furthermore, a recent study published in the Atlantic [2] shows that eating habits of communities are influenced more by income, education, and nutritional knowledge of their residents than by prevalence of supermarkets. The Healthy Corner Store Initiative works to bridge the gap in education and nutritional knowledge as the Department works to transition bodegas into healthy food access points, counteracting the prevailing food swamp environment.
Back in my office on that Wednesday morning, I turned to one of my co-workers to see if he knew where I could find a stamp and envelope. He told me to check out the bodega near the entrance to the Department. Uncertain whether the corner store that I walked by everyday would have the stamps and envelope, I decided to give it a chance. To my surprise, when I told the bodega owner what I was looking for, he asked: "how many of each?" Residents of Jersey City, like my co-worker, know that the bodega is a go-to destination for whatever you need. I'm hoping that combining fresh and nutritious food with the bodegas' ubiquity will make a real difference in healthy food access in Jersey City.
[1] Cooksey-Stowers, K., Schwartz, M, & Brownell. (2017). "Food Swamps Predict Obesity Rates Better Than Food Deserts in the United States." Int. J. Environ Res Public Health 14(11): 1366. Retrieved on 3/15/18 from https://www.ncbi.nlm.nih.gov/pmc/articles/PMC5708005/
[2] Florida, R. (2018). "Food Deserts Exist. But Do They Matter?" Atlantic. Retrieved on 3/15/18 from https://www.theatlantic.com/business/archive/2018/01/food-deserts/551138/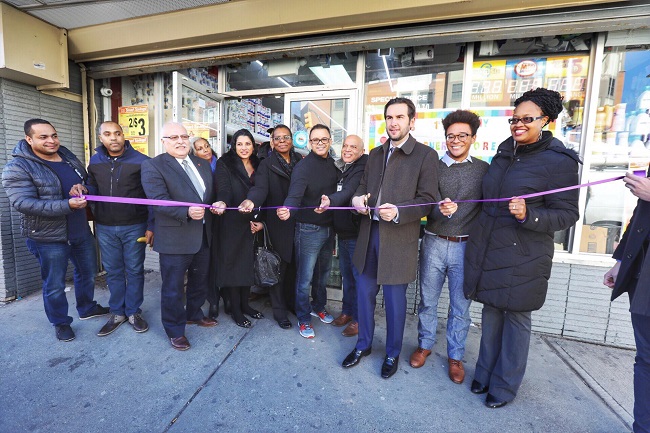 De'Sean Weber (second from right) at a ribbon-cutting ceremony for a newly-certified healthy bodega in Jersey City, NJ.
Bardia Vaseghi
In its 400-year long history, Jersey City has been known by a number of memorable nicknames. Some, such as "Wall Street West" and "New York's Sixth Borough," were imposed by mocking neighbor cities to remind Jersey City of its inferiority. Surrounded by its more well-known neighbors, Newark and New York, many Jersey City residents describe their city as living in the shadow of two "giants."
Yet, I've found that none of these nicknames come close to capturing Jersey City's distinctive character. Another one of Jersey City's nicknames, one that is less frequently used each day, more accurately describes this remarkable city. Jersey City is America's "Golden Door." The nickname stuck because most of Ellis Island, the ubiquitous symbol of American immigration, lies in Jersey City's waters, but the origin story belies a more profound truth. Jersey City, where over 70 languages are spoken and nearly half the population was born abroad, is a microcosm of the United States with its incredible emphasis on diversity, service, and citizenship. But Jersey City is also an embodiment of America's darker values: jarring economic and social inequality.
This stark inequity, between the city's rapidly growing Downtown and the historically underserved Ward F, is reflected in the city's food access inequality. While the city's Downtown is also bereft of full-service grocery stores, residents there can rely on expensive food delivery services like Amazon Fresh or Fresh Direct for healthy food. Grove Street, the city's main commercial street, has long attracted New Yorkers to its restaurants and stands, eager to try food featured in the New York Times and Post. Meanwhile, Ward F has suffered from inadequate access to grocery stores and the resulting repercussions: increased rates of high blood pressure, coronary heart disease, and health-related mortality. Whole blocks of Martin Luther King Jr. Drive, the neighborhood's main street, contain nothing but boarded-up storefronts. Big Mac and Whopper wrappers littered the neighborhood's cracked sidewalks.
My project at the Jersey City Department of Health & Human Services was to write a food assessment in Ward F, to figure out what barriers to food access exist and devise specific recommendations to address them. I interviewed dozens of community leaders, spoke with hundreds of residents, and scoured through many more data spreadsheets to paint a clearer picture of Ward F's food access situation. The project took me to food pantries on frigid mornings, quaint church halls in the evenings, and community center after community center. In those places, I learned that listening to and elevating the voices of those most impacted by government action is the most important step in policy formulation. Residents taught me what statistics stubbornly obscured and pundits conveniently ignored.
Their experiences shocked me and contradict many of the long-held assumptions about Ward F and low-income communities generally. I found that most residents prefer to eat at home rather than at fast food residents, most eat adequate amounts of a variety of healthy food, and most shop at grocery stores rather than bodegas. These results showed that most of the neighborhood's residents wanted to lead healthier lives but lacked adequate resources to do so.
Almost all residents expressed that they would take advantage of interventions that promote healthier eating: more education programs, higher quality fruits and vegetables, and more affordable transportation options. Even more importantly, they asserted a strong desire to be a part of creating and sustaining these initiatives, if only they had a little support. Residents understand what their community needs. By clarifying stereotypes and centering the voices of residents, I hope that the assessment will inspire leaders in government and other people in power to provide people who live in neighborhoods like Ward F the support they need for improved food access. In other words, I hope my food assessment will help bring attention to their call for empowerment.
Bardia Vaseghi examines produce for sale as part of his Community Food Assessment in Jersey City, NJ.