Five anti-hunger champions were honored at the 2018 Hunger Leadership Awards on Wednesday, July 11th at the Columbus Club in Union Station, Washington D.C. The awards were presented during the Congressional Hunger Center's 25th Anniversary Gala, which drew attendees from government, philanthropy, business, and nonprofit sectors, as well as alums from the past 25 years of the National and International Hunger Fellows programs.
Before the ceremony began, guests watched a short video presentation featuring interviews with CHC founder Ambassador Tony Hall and Hunger Fellow alum Cara Brumfield. Opening remarks were delivered by CHC Board Chair Rep. James P. McGovern.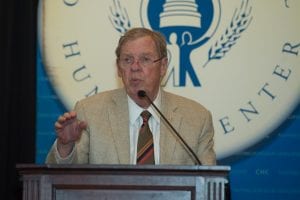 Senator Johnny Isakson delivers his acceptance speech at the 2018 Hunger Leadership Awards.
Receiving the Bill Emerson and Mickey Leland Hunger Leadership Awards was Senator Johnny Isakson (R-GA), for his introduction and continued support of the Global Food Security Act, which has helped millions of people in targeted countries achieve food security.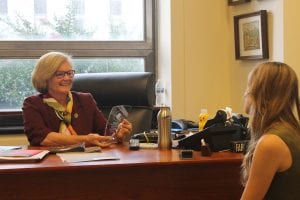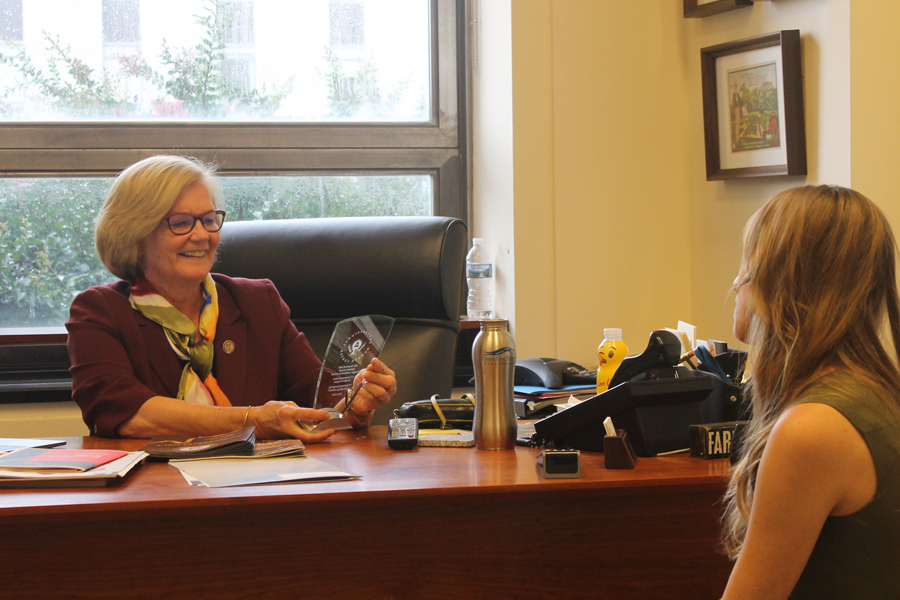 Representative Chellie Pingree accepts her award the following week in her office on Capitol Hill.
Also receiving the Bill Emerson and Mickey Leland Hunger Leadership Award was Representative Chellie Pingree (D-ME), for her strong support of local and regional agriculture, her work to reduce food waste, and her efforts to make it easier for SNAP beneficiaries to connect to healthy food and farmers markets.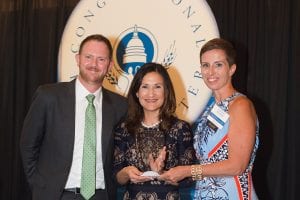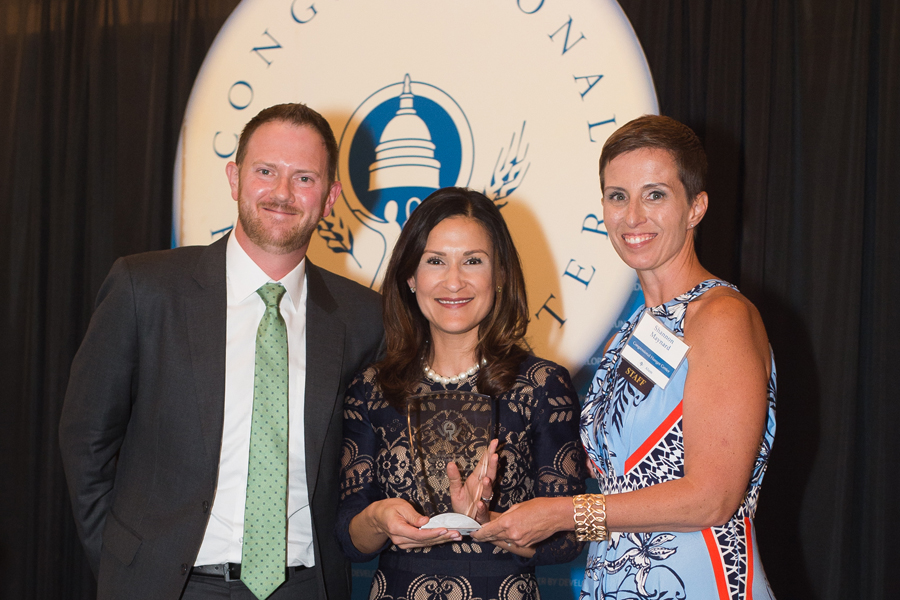 Matthew Perin, Mary Jane Melendez, and CHC Executive Director Shannon Maynard at the 2018 Hunger Leadership Awards.
Receiving the Corporate Partner Hunger Leadership Award was the General Mills Foundation and its Executive Director, Mary Jane Melendez. The Congressional Hunger Center recognized the General Mills Foundation for centering food security, sustainable agriculture, and strengthening hometown communities in its philanthropic strategy.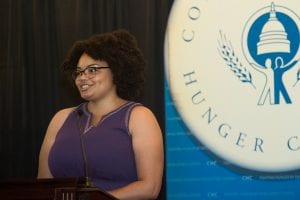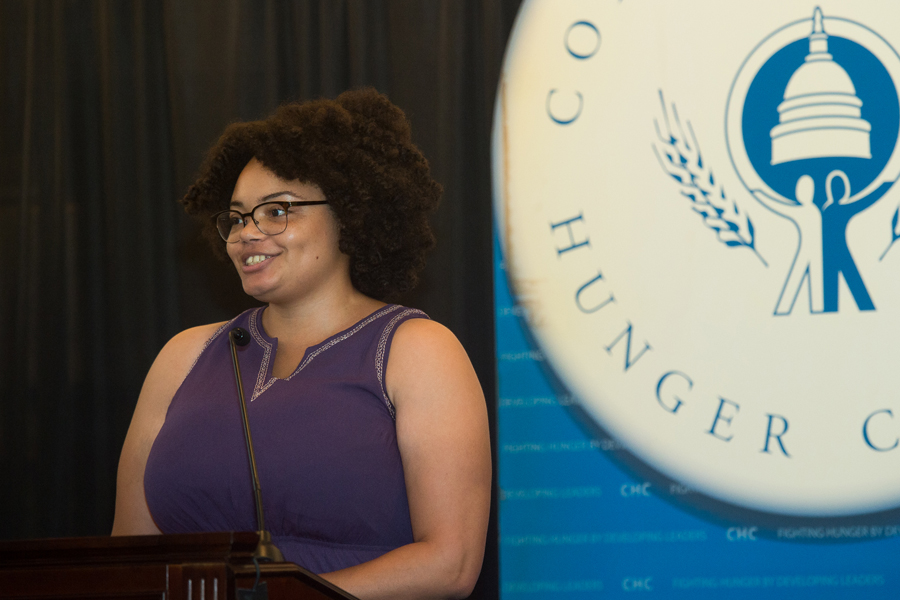 Hunger Fellow alum Cara Brumfield delivers her acceptance speech at the 2018 Hunger Leadership Awards.
Receiving the Congressional Hunger Center Alum Leadership Award was 17th Class Emerson National Hunger Fellow alum Cara Brumfield, senior policy analyst at the Economic Security and Opportunity Initiative at the Georgetown Center on Poverty and Inequality. Congressional Hunger Center recognized Cara for her career commitment to ending hunger and poverty, as well as her dedicated and steadfast service to the Emerson program, including annual mentorship and support of new classes of Hunger Fellows.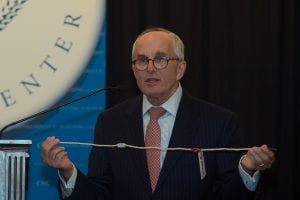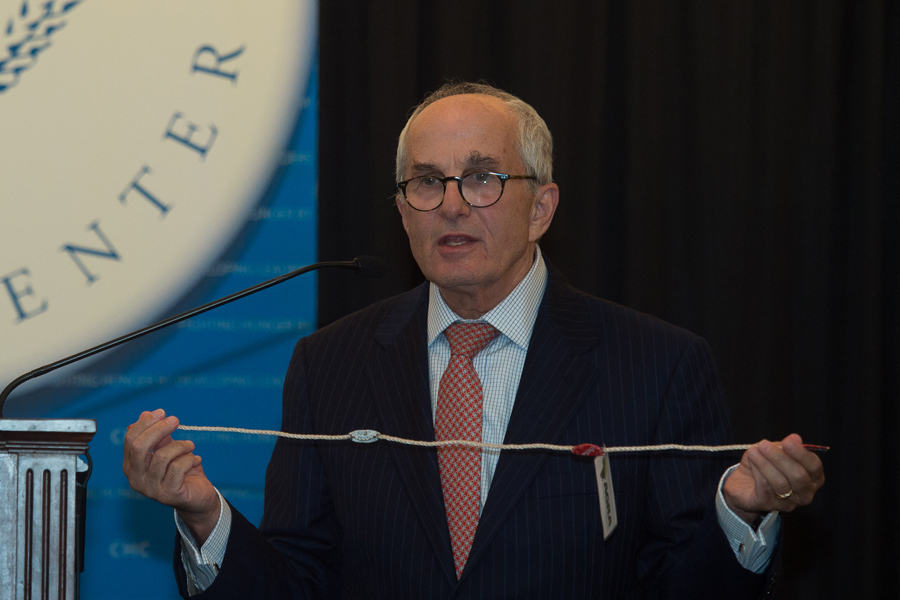 Marshall Matz demonstrates the use of a planting string during his acceptance speech.
Marshall Matz of Olsson, Weeda, Frank, Terman and Matz, PC, was also honored with the Congressional Hunger Center's Lifetime Achievement Award. He was recognized for his career devotion to reducing hunger nationally and internationally and his many years of service on CHC's Board of Directors.
July 11th was a memorable night of celebration for the Congressional Hunger Center, looking back at past accomplishments and the leaders we have developed these past 25 years, and looking forward into what the future will bring with the 25th Class of Emerson National Hunger Fellows stating their fellowship in just a few weeks. However, we must not forget why CHC was founded—to end domestic and international hunger by raising a new generation of leaders who are capable of leading change. We do not want to celebrate a 50th Anniversary of fighting hunger because we strive to end hunger by the year 2030.
For the first time in decades, hunger is on the rise globally. We need to work together to make hunger and poverty a priority for policymakers. CHC strives to be a leader in the movement to ensure access to food as a basic human right for all people. We create and nurture a community of innovative and inspiring leaders who act as change agents, bridging the gap between grassroots efforts and national and international public policy to provide access to nutritious and affordable food.
Sponsorship of the annual awards ceremony provides necessary funding that helps CHC sustain and grow our programs, increasing our reach and getting us closer to our shared goal. Thank you to everyone who supported CHC by sponsoring our work through this event. The 25th Anniversary Gala was made possible with major support from the General Mills Foundation and the Kroger Company Foundation, as well as support from Pepsico, Tyson Foods, AARP, the Kellogg Company, KraftHeinz, Land O' Lakes, and Walmart. Review the complete list of sponsors here.